GOVI Operating Elements
The following contains information about the operating elements and procedures for your GOVI refrigeration unit.
Main Cover
Evaporator (with Refrigerant in the System)
Protection Cover
Air Intake (Do Not Obstruct)
Air Outlet (Do Not Obstruct)
Main Cover (1)
The main cover (1) covers the outer parts of the refrigeration unit.

Evaporator (2)
A liquid gas is used inside the pipes of the refrigerating unit. Refrigerants usually need special attention in handling. This refrigeration unit works with a hermetic piping system. Under normal conditions, there is no need to recharge refrigerant. Some States may have statutory provisions and regulations for disposal of refrigerants. Make sure you know and follow these statutory provisions and regulations when changing or disposing of refrigerants.
Protection Cover and Target Temperature
The protection cover (3) is a cover that opens like a window. The lid window shields the control unit from harsh weather and impedes unintended changes of the settings. You need a turn spanner (included in delivery) to open the lid.
The target temperature is the desired temperature inside the cargo box. You can adjust the target temperature by following the below instructions.

Air Intake (4)
Do not obstruct air intake!

Air Outlet (5)
Do not obstruct air outlet!
GOVI Control Elements

Display
The display (1) serves to choose and to show the nominal temperature.

ON / OFF
The ON / OFF switch (2) enables users to switch on and off the refrigeration unit.

Control (SET) Switch
Setting Nominal Temperature (3).

UP / Defrost
To increase the temperature/manual defrost (4).

DOWN/Light
To lower the temperature / enable to switch the light on / off (5).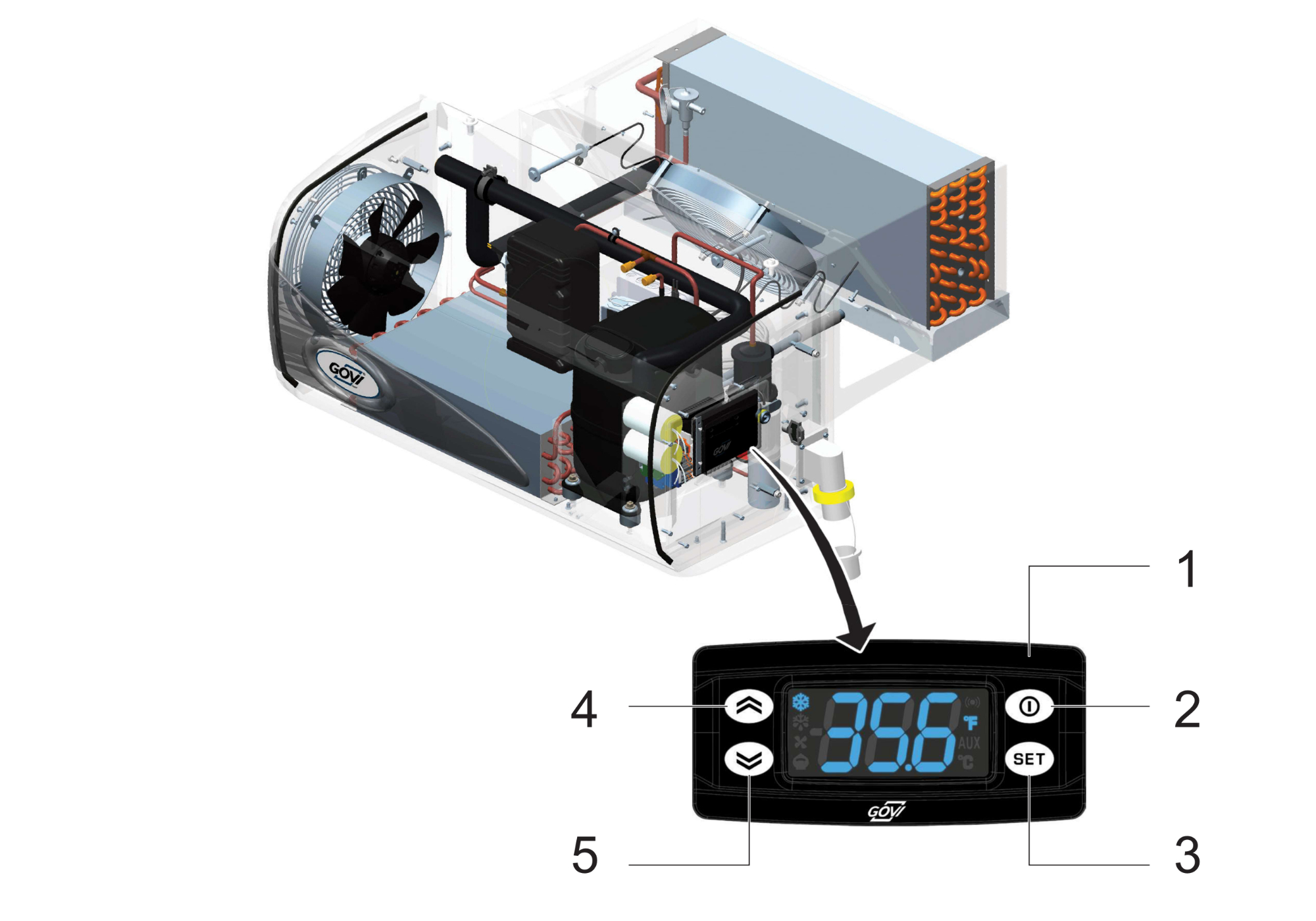 CAUTION
You shall immediately unplug the refrigeration unit at the power supply if you detect smoke, unusual smells or strange noises around the refrigeration unit.

Call for service before operating the refrigeration unit again.

Notice:
Ensure adequate air circulation for the refrigeration unit during the operation process. Do not obstruct the air intake on the bottom of the refrigeration unit or the air outlet on the left side.

Always choose a safe and horizontal parking position for the refrigerated trailer. Allow adequate space for tree branches and alike.

Notice:
During operation, you should check regularly for ice building up on the evaporator inside the cargo box. Icing may inhibit normal operation to a point that the refrigeration unit cannot cool down the cargo box to the set temperature.

There is risk of property damage.

In case of icing, immediately take out all and any perishable merchandise from the cargo box and move it to an appropriate environment. Then start the defrost procedure according to the maintenance instructions. This will clear the evaporator from icing and restore normal operation conditions.